Enhance efficiency, streamline processes, and optimize operational performance of shared service centers.
Benefits of Automation and Data Analytics in the Shared Services Industry
Enhanced Operational Efficiency
Streamline and optimize operations by automating repetitive tasks and using data-driven insights.
Team Performance Management
Automatically calculated KPIs allows managers to assess team productivity, efficiency, quality, and adherence to SLAs.
Scalability and Flexibility
Automation allows for the dynamic allocation of resources, ensuring scalability and flexibility without compromising service quality.
Compliance Monitoring and Auditing
Automation can be used for monitoring compliance with regulatory requirements and internal policies.
Improved Decision-Making
Make informed decisions using valuable insights & trends.
Reduced Operational Cost
Optimizing resource allocation, identifying process bottlenecks, reducing manual interventions, and optimizing service levels.
Improved Quality of Service
Deliver high-quality services with reduced errors and faster response times.
Strategic Resource Allocation
Optimize resource allocation by analyzing workload patterns and demand forecasts.
Increased Visibility to Business Insights
Unlock the hidden value trapped inside company data.
We deliver solutions to help our clients drive real business outcomes, including industry-specific application support and accelerators, with a focus on Consumer Goods, Retail, Manufacturing, Real Estate, Construction and Healthcare.
IT Strategy & Planning
Enterprise Systems Roadmaps
Enterprise Systems Selection & RFP Management
Data Strategy & Architecture
Program & Project Governance
Intelligent Process Automation Data & Analytics Enterprise Performance Management Process Assessment Program & Project Management Supply Chain Digitization Electronic Invoicing
RPA / BI Control Room Monitoring & Support Platform / Infrastructure Management Enterprise Performance Management/Business Insights Data Management
We welcome opportunities to work alongside different teams on projects of any complexity. Working together, we will develop new systems, solutions, and products to put you ahead of your competition.
As a leading technology consulting and data analytics company, we help our clients to extract valuable business insights from their data to better understand their audience, forecast demand, reduce risks, prevent cost overruns, and much more.
We Use Different Tools and AI Services
– Blue Prism
– UIPath
– Automation Anywhere
– Abbyy
– Microsoft Power Automate
– Azure Data Factory
– Databricks
– Synapse Analytics
– KNIME
– Microsoft PowerBI
– Tableau
– Quicksight
– Azure AutoML
– KNIME
– Tensorflow
Consultants, Solution Engineers, Data Scientists, Architects, Analysts, and Project Managers
Regional and Global Customers
Key Geographies:
USA, Canada, Western Europe, MEA, and APAC
Consumer Goods, Retail, Distribution, Logistics, Healthcare
Robotic Process Automation
Dashboards
Data Engineering
AI/ML
Enterprise Systems Consultancy
IT Project Management
Shared Services Use Cases
Enterprise Performance Management Solution
Establishing your organization's Performance Management framework through industry standard KPIs and metrics tailored to your operational model and reported through a multi-tier dashboard platform that serves your operational, managerial, and executive audiences.

Intelligent Automation Assessment
Automation is a major driver for Shared Services standardization and COE establishment activities. We can help examine your Shared Service Organization business cycles and work processes to identify automation opportunities to unleashing your organization's potential. This is the perfect start for an Intelligent Automation program that helps you establish a robust pipeline of automation processes, determine an objective prioritized development roadmap, and calculate an accurate ROI to drive further trust in the program.

Automation/BI Factory Model
Deliver hundreds of automations & dashboards through a program-scale delivery model working on continuous pipeline discovery and requirement documentation across multiple teams & functions and feeding into our global factory delivery team which handles development, testing, validation & deployment of automated processes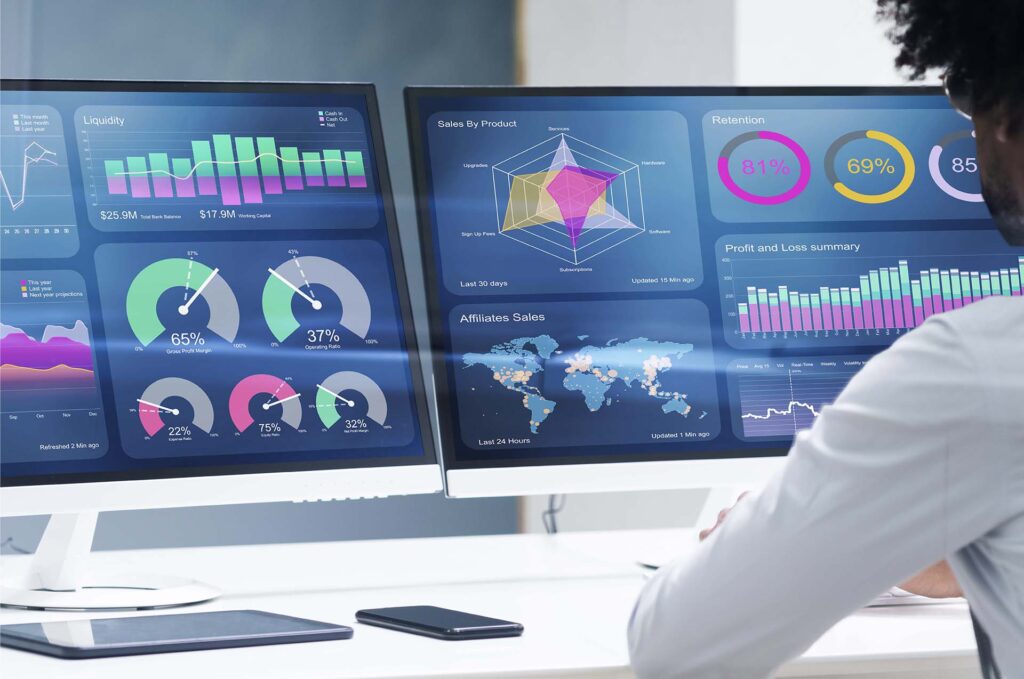 End-to-End Supply Chain Visualization
Gain full visibilty over your end-to-end supply chain for all your products. We design and build complex dashboards for end-to-end supply chain visualization (from supplier until customer). The dashboard extracts and aggregates data from multiple data sources, performs complex calculations and presents the data in an easy-to-use user experience, allowing planners to interact with operational and strategic KPIs that enabling planning across the full value stream.
Have a project in mind? Contact Us!
Let's Talk About Your Project.